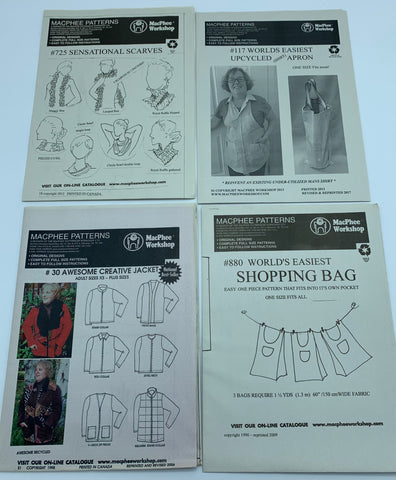 UPcycling Project Combo - SPECIAL OFFER
---
Click the box below to see more choices
---
This project combo is all about UPCYCLING and REUSING all those goodies you've been finding around your home or at the thrift store! It includes 4 great patterns and costs $20 (+tax and shipping) which makes each pattern only $5.00  (a saving of $3.00 per pattern!!).    

COMBO INCLUDES:
 #117 Shirt Apron and Wine bottle holder - made from mens shirts, great way to use up clothes that no longer fit or aren't worn, great gifts too!
 #30 Awesome Jacket - Check out the "Jacket made from JEANS" video on our home page, loads of great ideas on how to repurpose old jeans into jackets
 #725 Sensational Scarves - 4 different scarf patterns in this one pattern, all are great but the one we've been making lots these days is the cowl scarf that can be made with pieced t-shirt knits, you only need small bits so a great way to use up those pieces that are too small for anything else or even cutting up and repurposing those t-shirts you no longer wear!
 #880 ReUsable Shopping Bag - you can never have too many reusable shopping bags! These work best out of nylon, but you can use anything from cottons to rayons to mesh! Dig thru your fabric stash to find something that is non stretch and relatively lightweight and start making bags!
Note: This offer has a limited supply, available only while stocks last! (you can always buy the individual patterns)
---
Are you interested in bulk buying one or more of our patterns for your guild members or your shop? We offer bulk discounts and wholesale prices.
Contact us at orderdesk@macpheeworkshop.com to find out more!
---
We Also Recommend
---