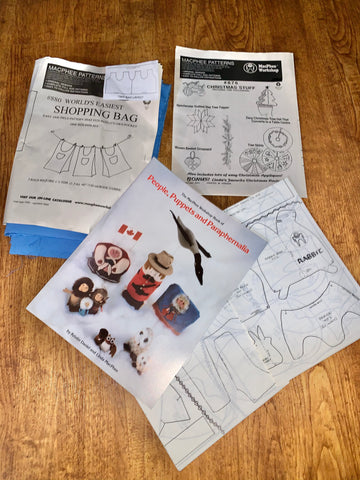 FREE CHRISTMAS GIFT*
---
Click the box below to see more choices
---
Note: Qualifying purchase amount is before taxes and shipping.
SPECIAL NOTE: WE WILL ADD THESE FREE ITEMS TO YOUR QUALIFYING ORDER. THEY WILL NOT SHOW UP IN YOUR CART AT CHECKOUT OR YOUR ORDER CONFIRMATION.
* When you place an order of $20 or more we will include our #876 CHRISTMAS STUFF pattern for free. It is full of great Christmas projects for you or anyone on your gift list.
When you place an order of $50 or more we will include the #876 Christmas stuff pattern and our full color book #903 People, Puppets, and Paraphernalia. This book is full of patterns and ideas for puppets (lots of animal ones), a wonderful dragon, a patchwork cushion, and sew much more. 

People Puppets and Paraphernalia Book
When you place an order of $100 or more we will give you both the two bonuses above and a World's Easiest Shopping Bag Kit which gives you the pattern and enough fabric to construct 2 reusable shopping bags! 
This deal will run until January 1/2023
---
---
We Also Recommend
---