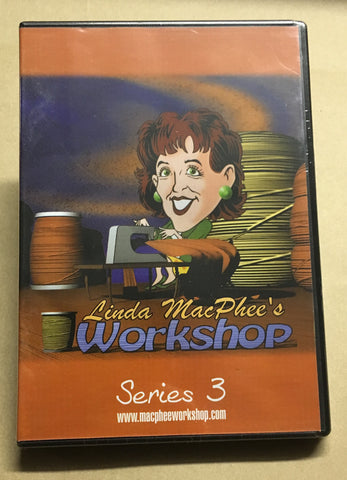 LINDA MACPHEE'S WORKSHOP SEASON 3
---
Click the box below to see more choices
---
Each season on contains 13 ½ hour episodes designed to entertain and inform with wonderful sewing projects, craft items and interesting guests
EPISODE 301

Guest, Ron Collins joins Linda as they discuss the different styles of the classic coat and how to make them. Ron then demonstrates how to make the perfect placket. Ron shares some common mistakes that occur when sewing and how easy they are to fix and repair. Linda and Ron take a quick peak of a recent sewing retreat.

EPISODE 302

Host Linda MacPhee and guest Joan Gibson demonstrate how to make a fast & fun SLINKY outfit. Guest, Muriel Ward is the Queen of serging. She shows us how to make wraps and shawls on the serger. Linda travels to the St. Albert Farmers Market and highlights a unique jewellery booth.

EPISODE 303

Guest, Nancy Millar and host Linda MacPhee demonstrate how to construct the new Liberation Jacket. Cynthia St. Charles, a textile artist, shows off some very unique quilts. She uses all sorts of obscure materials(including nails and rust) to dye her fabrics. Cynthia then teaches us how to use tyvec to dye various materials to use artistically.

EPISODE 304

Linda MacPhee and guest Joan Gibson share the secret of sewing with sheer fabrics and how to make those fabulous seams. Cathy Badry teaches us how to embroider by using software on the computerised sewing machine. Linda interviews 4-H leader Leona Pethebridge and tells us about the 4-H program.

EPISODE 305

Host, Linda MacPhee and guest Stephen Antle show off a variety of hand-made costumes and show us how we can make them ourselves. Wonder Women shows up to show off her costume as well!

EPISODE 306

Guest Corrine Mallang and host linda MacPhee demonstrates how to make a fabulous wall hanging using various materials. Guest Eva Holden shows us how to make fun and funky por holders. Corrine and Linda explore how to create "Cushions for Occasions". The Christmas design is highlighted.

EPISODE 307

We learn how to have fun with chenille! Linda and Guest Rosemary Moran show us how to make a shimmer chenille jacket. Guest Eva Holden demonstrates how to use fabric and adhesive tape to make bags, hats, photo pages and more! Guest Abby Riba shows us how to make beautiful outfits by embellishing with crystals.

EPISODE 308

Linda MacPhee is joined by guest Kat Brandon. Linda shows this non-sewer how easy it is to make a fantastic handbag. guest linda Freund teaches us how to make amazing dolls with a sewing machine. Linda Freund then demonstrates to us how to embroider blocks to make beautiful quilts.

EPISODE 309

Guest Corrine Mallang and host Linda MacPhee show us how to use scraps of material and old jeans to make a variety of unique jackets. Linda is at western Canada's largest outdoor farmers market. She talks to Helen about angora and we learn how to make little dolls. Guest Joan Statz and host Linda MacPhee admire a quilt Joan made out of old denim blue jeans. We also look at landscapes using denim.

EPISODE 310

Host Linda MacPhee is joined by her cousin, Nancy millar. Together Linda and Nancy prepare for the holiday season. Nancy shows us how to make Santa's and Snowmen to decorate your home for the festive season. We learn how to make a table runner as well. For the child in all of us, we learn how to make a hobby horse and a fantastic dancing doll!

EPISODE 311

Guest Joan Gibson and Linda demonstrate how to create beautiful baby quilts with the new soft and luxurious fabrics. Guest Aie Rossman stops by to show off many of her unique quilts. Aie is also the author of her own book, "Affairs of the Heart". Guest Susan Wells shows us the hottest thing in drapery-gomets!

EPISODE 312

Linda and Joan teach us how to make clothes for toddlers. guest Linda Freund highlights placemats, napkins, pillowcases and hat boxes-all embroidered! Beverly Smeall shows us how to put a zipper in a garment correctly!

EPISODE 313

Host Linda MacPhee shows guest Stephen Antle how to make a hat! Together they take a look at the variety of different styles you can make yourself. Guest Cathy Badry demonstrates new computer software that allows you to transfer graphics onto specially finished fabrics. Guest Andrea Steel shows us garments for a simple figure and how to make and finish reversible garments.

---
---
We Also Recommend
---