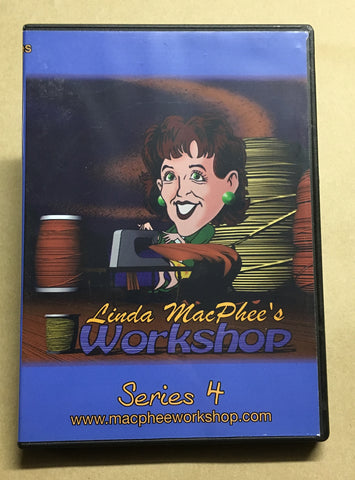 LINDA MACPHEE'S WORKSHOP SEASON 4
---
Click the box below to see more choices
---
Each season on contains 13 ½ hour episodes designed to entertain and inform with wonderful sewing projects, craft items and interesting guests
EPISODE 401

Linda & Cathy Badry combine sewing and latest technology to assist with the design process. Margaret Cardinal joins Linda to highlight various traditional beading and stitching methods.

EPISODE 402

Rosemary Moran and Linda create a skirt and top with MacPhee Workshop's Circle-Square pattern. Eva Holden highlights the use of a machine triple stretch stitch.

EPISODE 403

Everything red and purple! Featured are some exciting "Red Hat" garments with Linda's creative touches. Fibre artist Wendy Rao show her amazing fabric portraits as well as her techniques. Long time favorite Joan Statz returns to the show with fabric landscapes.

EPISODE 404

Linda and her friend Joan make a jacket out of plastic bags! Kathy Morgan use Pendleton Blankets to make great rugs and coats. Muriel Ward shows using fusible thread in the serger.

EPISODE 405

Learn how to use common dishwasher liquid to create amazing designs on fabric. The show takes a field trip to a local Farmer's Market. Abby Riba a decorative expert share the techniques of embellishing with crystals.

EPISODE 406

Linda and Joan Gibson make brightly decorated bunting bags for babies. Lorie Huising talks about "Quilts for Kids" and making quilts for hospitalised children. Linda take visits the Sew-Can-You School of Sewing.

EPISODE 407

Linda shows novice Kat Brandon how to make a simple throw. Kathy Monaghan share share the story of Pendleton Blankets and how they are made. Learn about the traditional craft of moosehair Tufting with Margaret Cardinal.

EPISODE 408

Linda and her assistant Corinne show how to use free motion embroidery to create one of a kind art to wear jackets. Vickie Newington, a fibre artist share talks about using cheese cloth and free motion embroidery in her amazing work.

EPISODE 409

Learn how to turn a scarf into a fabulous skirt. Linda talks with Madeline Bellmond an artist who uses fabric and paint as her medium. Carol Todd shares some ways to make the most of your embroidery machine.

EPISODE 410

In this episode, learn how to make mukluks with Linda and her cousin Nancy. Nancy Millar shares her new book "the Unmentionable History of the West". A look at underwear over the centuries. Pam Tovey shows all kinds of beautiful projects with many different kind of yarn.

EPISODE 411

Linda's project in this episode is a lovely single layer chenille jacket made from a light weight shimmer fabric. Cathy Badry delves into making the most of your serger. Linda gives us a peak at what happens at her popular sewing retreats.

EPISODE 412

Linda and her assistant Sandra MacDonald reveal the use of different foiling techniques .Foiling gives garments that extra punch! Susan Wells visits the set with her ideas ways of making padded head boards and other home- dec items.

EPISODE 413

Linda has two guests on this episode, see how to sew pockets into pants or a jacket with educator Ron Collins. Fibre artist, Dawna Harrish, brings some of here fabric montages and talks about some of here techniques.
---
---
We Also Recommend
---